Bispecific Antibody
anti-PAUF, anti-CTHRC1
PAUF와 CTHRC1이 높게 발현되는 암을 치료하기 위한 이중 특이적 항체
요약 | 췌장암, 난소암 항체신약 IDC001
IDC001은 PBP1510과 PBP1710이 결합된 이중 특이적 항체로, PAUF와 CTHRC1이 높게 발현되고 일차 치료제에 내성이 생긴 췌장암, 간암, 난소암 등을 치료하기 위해 디자인된 항체입니다.
고도로 공격적인 암은 빠른 증식 및 전이를 유도하고 면역을 회피하기 위해 여러 메커니즘(PAUF와 CTHRC1의 과발현)을 사용합니다. PAUF와 CTHRC1 수치가 모두 높은 환자는 생존율이 낮은 경향이 있습니다.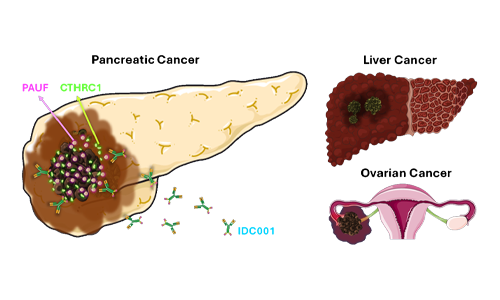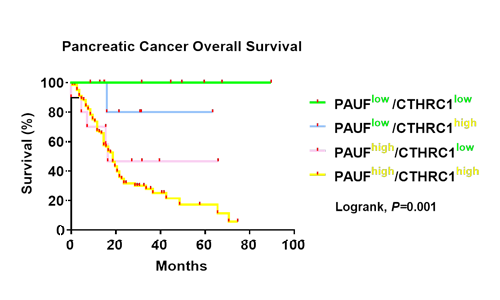 [1] CTHRC1 may serve as a prognostic biomarker for hepatocellular carcinoma. Onco Targets Ther (2019).
[2] Elevated expression of PAUF is associated with poor prognosis and chemoresistance in epithelial ovarian cancer. Sci Rep (2018).
[3] Overexpression of CTHRC1 in hepatocellular carcinoma promotes tumor invasion and predicts poor prognosis. PLOS ONE (2013).
[4] Efficient targeting and tumor retardation effect of PAUF-specific RNA replacement in pancreatic cancer mouse model. Cancer Lett (2014).
[5] PAUF, a novel up-regulated secretory protein in pancreatic ductal adenocarcinoma. Cancer Sci (2009).
Category :
bs-Ab (bispecific antibody)
Indication :
췌장암 Pancreatic Cancer, 
난소암 Ovarian Cancer