First-in-Class Antibody
Anti-CTHRC1
CTHRC1에 결합하여 암의 전이 및 진행을 억제하는 항체 메커니즘을 기반으로 한 신약
요약 | 항체신약 PBP1710 (anti-CTHRC1)
암세포의 이동과 성장을 촉진하는 단백질인 CTHRC1(collagen triple helix repeat containing 1)은 췌장암, 비소세포성폐암 등에서 상대적으로 높게 발현됩니다. PBP1710은 CTHRC1에 특이적으로 결합해 종양의 전이와 성장을 억제하고 암을 치료할 수 있는 능력을 가진 항체입니다.
CTHRC1은 암세포에서 CTHRC1-Wnt5-Fzd2/Ror2 복합체를 형성해 Wnt5 신호전달 경로의 활성화를 통해 암세포 이동을 촉진합니다.
또한 CTHRC1은 내피 세포로부터 Tie2 리간드인 Ang-2의 분비를 상향시켜 종양에서 혈관신생을 자극합니다. 여기서 단핵구의 Ang-2 및 Tie2의 활성화는 종양 혈관신생에 중대한 역할을 합니다.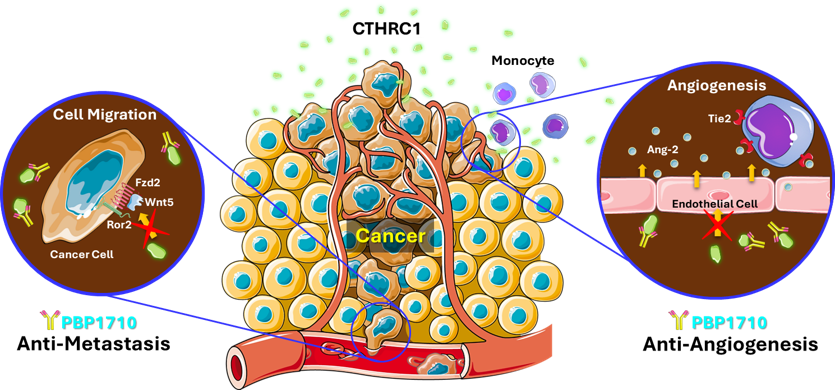 [1] Pan-cancer analysis combined with experiments predicts CTHRC1 as a therapeutic target for human cancers. Cancer Cell Int (2021).
[2] CTHRC1 induces non-small cell lung cancer (NSCLC) invasion through upregulating MMP-7/MMP-9. BMC Cancer (2018).
[3] CTHRC1 promotes angiogenesis by recruiting Tie2-expressing monocytes to pancreatic tumors. Exp Mol Med (2016).
[4] CTHRC-1 promotes pancreatic cancer progression by regulating migration and adhesion of tumor cells. Carcinogenesis (2013).
Pipeline : PBP1710 (Anti-CTHRC1)
Category : mAb (monoclonal antibody)
Indication : 고형암 Solid Tumors
Preparing for preclinical trial

25%

25%